Yes, if you won't be able to attend your scheduled lesson on time, or at all, please cancel at least 24 hours in advance.

Right now, it's not possible to change a scheduled lesson. Your lesson will start and end at the scheduled time, even if you're late! For example, a 30-minute lesson scheduled for 12 pm will start at 12:00 pm and end at 12:30 pm.
We always want to remind both students and tutors to value each other's time. If you cancel a lesson you will be able to use the minutes again. If you do not cancel the lesson in advance you will not be able to use those minutes again.
You can then schedule another lesson for later that day or another day that same week. Or, you can immediately call one of the excellent tutors who are online. Just be sure to have a new lesson before 3 am on Monday!
How to cancel your lesson from your mobile device:
1) Select the lesson you want to cancel from the [Upcoming Lessons] section of your home page.
2) Click [Cancel lesson] and then confirm that you want to cancel your lesson. If possible, please send your tutor a message to let them know why you're cancelling.
How to cancel your lesson from your laptop or computer:
1) Click the calendar icon at the top of your Cambly home page to find the lesson you want to cancel. Then click the edit icon (blue circle with a pen).
2) Select [I need to cancel]. If possible, please write a message to let your tutor know why you're cancelling.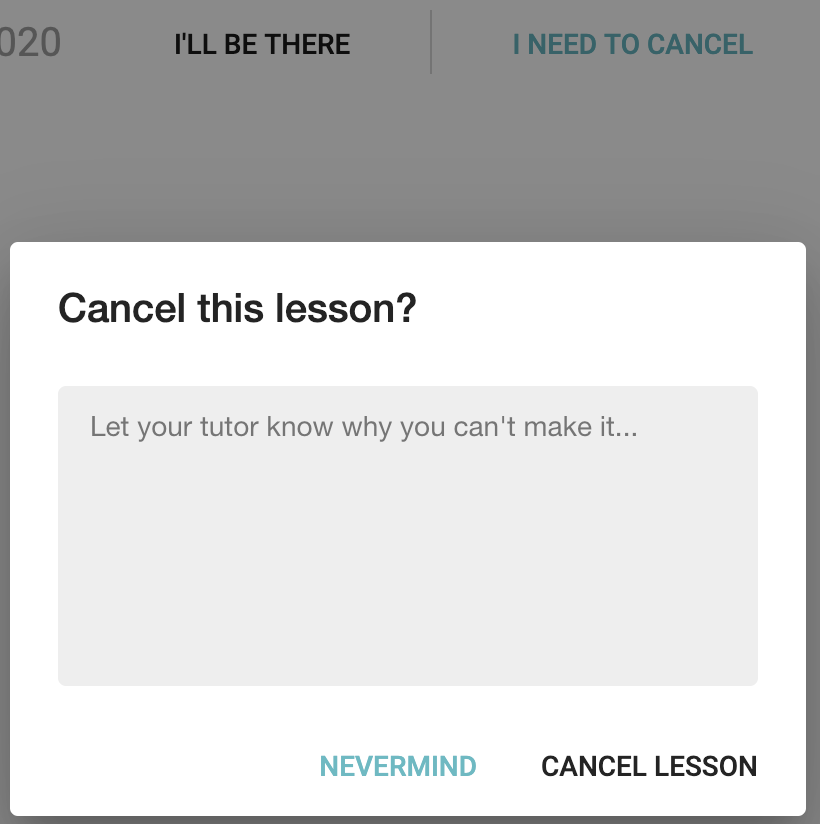 You may find these articles useful:
What happens if I miss my reservation?
Can I pause my subscription? How?
Still Need Help? Please send a request.